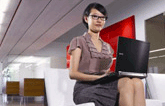 Bring the Cloud Down to Earth
Flexible infrastructure. On-demand scale. Maximum utilization of IT investments. Whether you're expanding your virtualization footprint or building an infrastructure from scratch, you need practical direction on how to turn your vision into a reality.
Dell brings the cloud down to earth. We offer consulting, cloud computing components and turnkey solutions based on pretested, preassembled, fully-supported hardware, software and services.
To realize the benefits of cloud computing, you first have to decide where to provision the service. You can use the ever-increasing choice of commercial public cloud services, build your own private cloud or do both selectively by workload.
The best approach for you depends on the needs of your organization, your planned level of investment and your security requirements. Along with our cloud reference architectures, Dell solutions enable you to deploy and manage private, public or hybrid cloud infrastructures quickly, easily and successfully.
Explore this site to get a closer look at cloud computing. Become a Dell Cloud Power User today.