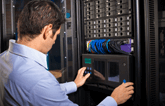 Are You an Efficient IT User?
Every day 15-20 petabytes of new data is created. The flood of information creates many challenges for businesses, including infrastructure performance issues, environmental impacts, storage overload and budgetary strains.

To flourish, you have to radically improve your ability to manage through these challenges while driving down the cost of doing business — and that means transforming your IT infrastructure by working through complex IT issues such as:
Lowering the costs of providing innovative business services
Increasing the amount of data you can manage
Slashing energy consumption
Shrinking the square footage needed for storage
Reconsidering the ways you handle aging assets
Where do you start? Right here. Explore this site for insight, education and strategies on improving the efficiency of your IT infrastructure while reducing costs and freeing your business to focus on growth. The right tools can help you free up a full 50 percent of your IT budget for innovation. Become a Dell Power User today.